I just wanted to give a mention to a good friend of mine, Mark Fry, who is making his debut at the "No Way Out" Cage Fighting Championship on October 25th at the International Brentwood Centre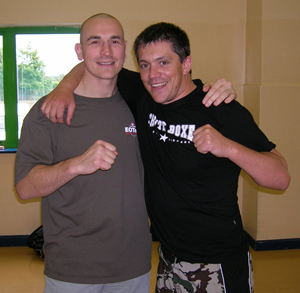 Mark is a great martial artists and a Top Bloke.

He is a regular on the BCA courses and currently attending his second Geoff Thompson Masterclass.
For more information, visit Mark's website:-
http://www.integratedselfprotection.com/home.htm
and click on the NEWS page
The site is also a good place to look if you're in Mark's neck of the woods and fancy joining in his classes. He teaches ground fighting, general self protection, fitness, etc etc
If you are in the area and fancy coming along to show your support, or meet up for a chin wag, you may be able to get some tickets from
http://www.cfc.uk.com/homepage.html
who are hosting the event.
I just want to wish Mark all the best. Good luck mate
(See you Sunday for the GT Masterclass #3)
AL