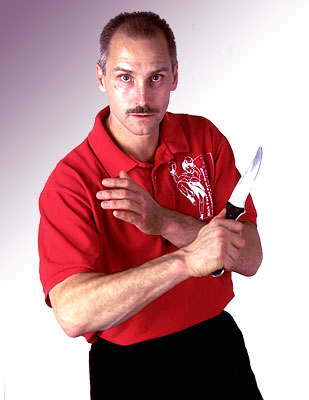 Friday 23rd October 2009 Way of the Spiritual Warrior Dojo
Unit 4 - New Inn Bridge Industrial Estate
998 Foleshill Road
Coventry
CV6 6EN
7pm til 10pm - a prompt start is essential!
cost
£35.00
paid on the night
or
£30.00
if paid in advance either in Person to Mick and Al or via our secure Paypal link
http://www.completeselfprotection.com/seminars.html
Fellow INSTRUCTOR - Special Offer
Bring 5 students and train for free
Complete Self Protection are very honoured to host Rick Faye, head instructor of the Minnesota Kali Group, USA. The seminar will on the day cover the art of Kali, including Panantukan, Dumog (fillipino grappling) and also Jeet Kune Do Concepts.
This is the second of hopefully many seminars we will be hosting for Sifu Faye.
Rick Faye has an impressive reputation for seminars on the arts, as well as self-defense and law enforcement topics. He is much in demand for seminars locally, nationally and internationally.
Rick Faye has been teaching and training in the art for over 25 years and is only ONE OF FIVE SENIOR FULL INSTRUCTORS UNDER GURU DAN INOSANTO IN THE WORLD!!
He holds Senior Full Instructorships under Guro Inosanto in both the Jun Fan Martial Arts/Jeet Kune Do Concepts and in the Filipino Martial Arts. He also holds a fifth level instructorship under Guro Inosanto in Silat (Maphilindo Martial Arts).
Rick is a Full Instructor in Muay Thai/Thai Boxing and is one of only 6 regional directors in the country for the Thai Boxing Association under Ajarn Chai Sirisute. Rick is also an Instructor under Sensei Erik Paulson in Combat Submission Wrestling (CSW), and holds instructorships from Nino Bernardo (Wing Chun), Paul Vunak and the late Sifu Larry Hartsell.
contact Mick on 07977309395
This seminar is booked on an honour system so if you do book a place but do not make an advanced payment - please ensure you do your best to turn up
thanks
Mick & Al x